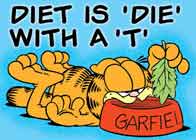 I started week 3 of Cto5k. And I did it! Granted the longest runs were only 3 minutes long - but I still did it with out stopping and even ran an extra segment at the end.
The eating had been a little better too. I think doing the exercise make you more aware of your body & what you put into it. Not that I'm perfect! But at least I feel I may be turning a corner here.
Susie - you'll be happy to see I logged your correct weight
tee hee!
Paula - wish I knew you had all that fruit salad left over - I'd have traded you for the gigantic load of past I brought home! At least your left overs are healthier than mine!
I had my southwest chicken salad today and it was yummy. LOVE those things!

Nicky - hope you're feeling better. Ea what the Dr. said and take it easy on the exercise. You DON'T want to be sick for the big day! Which incidentally is coming up really quick!
Let me know about walking this week girls. I'm headed to the cottage either Thursday night or Friday. The kids will join me Friday night (except Yellie & Dan). Mike said he's coming but I'm not holding my breath. He's a workaholic and there's nothing I can do about it.
And yes...in response to the last few comments about dieting being so hard - DITTO! It sucks!